TestimonialsLoyal Customers Give Us Glowing Reviews
We at Signature Woodwork strive to make raving fans from our loyal customers for which we do custom work.
Reviews like this energize us to give you the same level of performance.
I contacted Signature WoodWork for a burnt wood coffee table, and all I can say is...well, wow! The table is beautiful, the craftsmenship is outstanding, and it looks perfect in my living room. Kudos to the fine craftsmen at Signature WoodWork.


LizBeth - Happy Home Owner
Would You Like to Submit a Testimonial?

We would love to hear from you! Just fill out the handy form below and we'll add your review to our growing list of praise with gratitude.
We Have People Talking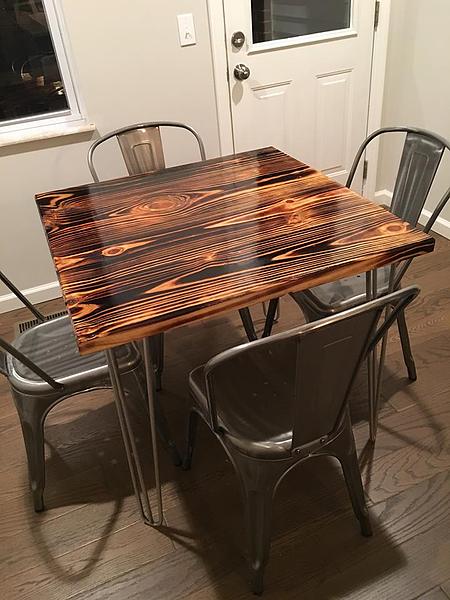 Burnt & Epoxy Finish Pine Wood Dining Room Table
First furniture in the new house, and credit must be given to Andy McMaster, the wonderful craftsman who built this table for us!

Jodi W. - Happy Home Owner
I purchased an awesome table and bench. The craftsmanship is outstanding.

Shanté S. - Happy Home Owner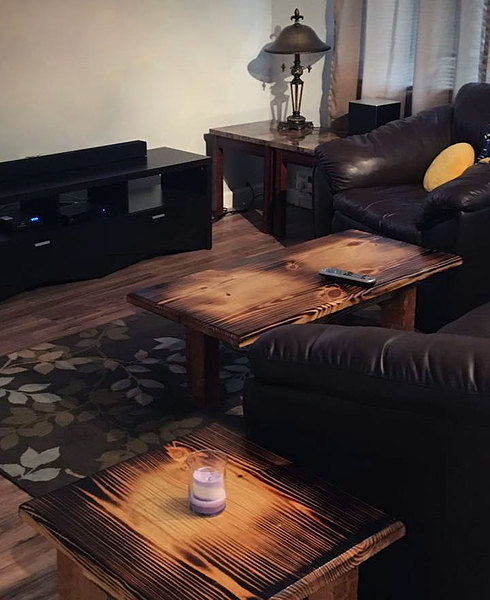 Burnt & Epoxy Finish Pine Wood Coffie & Side Table
Great tables, look awesome in my family room , I'll be sending my friends.

Joe W. - Happy Home Owner
We're extremely happy and thoroughly enjoying the table as we have received many compliments from our friends and family about the look and the craftsmanship of the table. We couldn't be happier and I know this is something we will enjoy for a very long time.

Eric J. - Happy Home Owner
Andy was incredibly helpful throughout the entire process. He patiently helped us from the beginning, from picking the wood, all the way to advising on the methods of construction of the furniture. It was all because of his input that made our coffee table idea turn out better than we could have imagined. We will definitely recommend him to our friends and family.

James W. - Happy Home Owner
We reached out to these guys a few months ago. We knew we wanted walnut and low profile hairpin legs for our new place. They priced their goods very reasonably and answered all of my questions thoroughly. The products are sturdy and the wood grain is beautifully accentuated with their finishing techniques. Would recommend Signature Woodwork to family and friends!

Tommy F. - Happy Home Owner
Andy provided friendly honest support from the initial inquiry to the finished product. The care that goes in to Signature products is obvious, making supporting this local business an easy decision.

Sonny B. - Happy Home Owner
My wife and I received delivery of our new Live Edge dining table with chairs yesterday. I just wanted to let you know that the table and chairs are perfect! Thank you so much for such beautiful and unique addition to our house.

Barb A. - Happy Home Owner
Thank you for the earlier-than-expected delivery of our new coffee table & end tables! They are beautiful and fit very well with the decor of our new condo. We look forward to enjoying them all for many years to come.

Eva C. - Happy Home Owner
Just got our table, bench and chairs today. Very happy with the end product! Great business to work with, good communication and quick turnaround time. Thanks!

Angie T. - Happy Home Owner